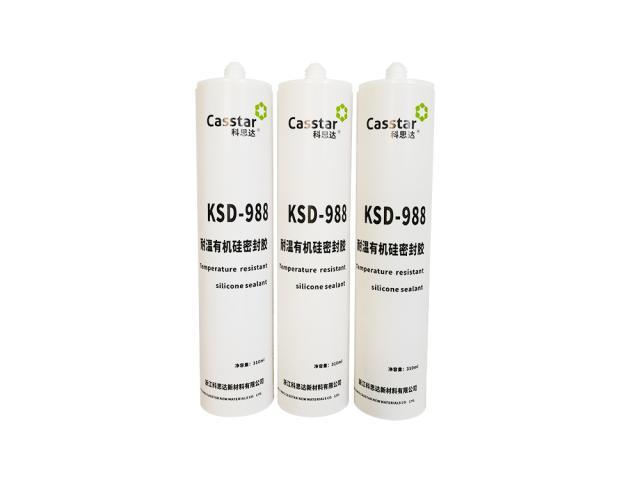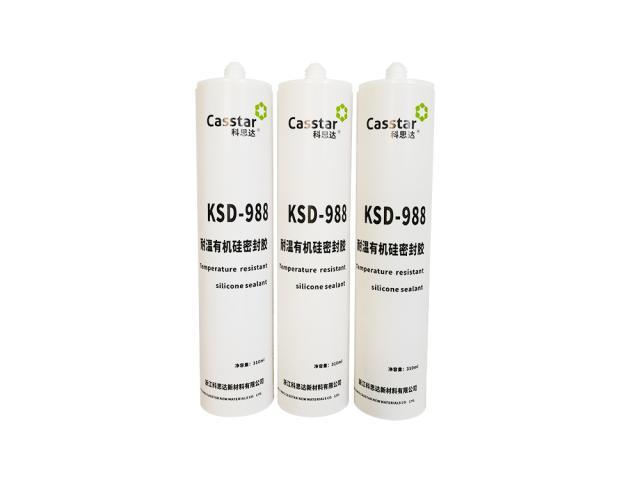 KSD-988 Temperature resistant silicone sealant
---
KSD-988 Temperature resistant silicone sealant
---
I. Product Features:
1. KSD-988 one-component silicone adhesive sealant, curing at room temperature; no corrosion to materials;
2. Good adhesion to most substrates such as: metal, plastic, ceramic and glass;
3, superior electrical performance, good heat resistance, long-term use in the temperature range of -60 ° C ~ 250 ° C;
4. This product does not need to use other primers, and it has good adhesion to most metals, plastics, ceramics and glass;
5. Excellent anti-aging properties such as heat resistance, cold resistance and moisture resistance, and good air tightness.
II. Typical Applications:
1. Widely used in the bonding and sealing of components with high temperature resistance requirements;
2, home appliance industry, such as induction cooker, microwave oven, stove, oven and other adhesive seals.
III. Executive Standard:Q/KSD 017-2018
IV. How to Use:
1. Substrate surface: dry, clean, remove stress, dust, oil, etc.;
2, sizing: open the rubber cap, squeeze the glue to the cleaned surface, make it evenly distributed, the fixed surface will be closed and fixed;
3. Make compatibility test before use, please confirm curing and bonding;
4. Curing: Place the glued or sealed parts in the air to allow them to cure naturally. The curing process is a curing process from the surface to the inside. The 24 hour adhesive will cure approximately 2-3 mm. If the position is deep, the time for complete curing will be prolonged.
V.matters needing attention:
KSD-988, 250ml / support, 310ml / support, 25KG / barrel, 240KG / barrel; or according to customer needs for packaging.
VI.Packaging Specifications:
1. Store in a cool dry place with a storage period of 9 months (at 28 ° C);
2. The product is non-dangerous and can be transported as general chemicals;
3, the gel must be sealed and stored, be careful to squeeze the collision during transportation!
4. Products that exceed the shelf life should be confirmed for use before use.