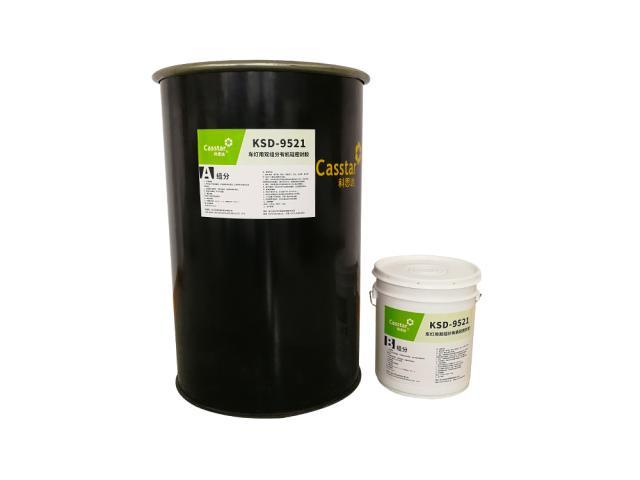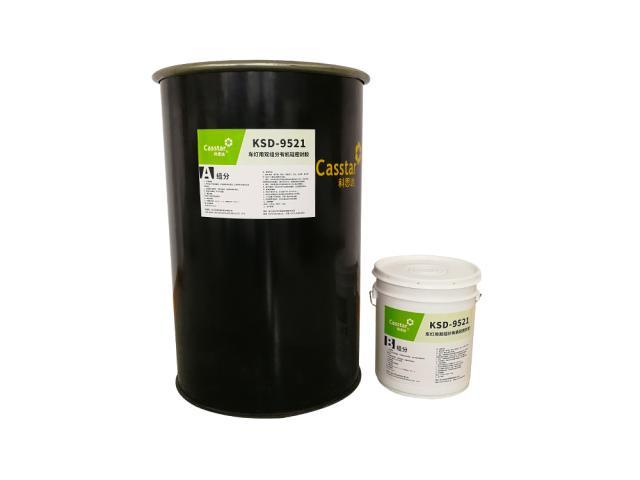 KSD-9521 Two-component lamp bonding adhesive
---
KSD-9521 Two-component lamp bonding adhesive
---
I. Product Features:
1. KSD-9521 two-component condensation type silicone adhesive sealing material, curing at room temperature, no corrosion to materials;
2, deep curing speed, two hours molding;
3, suitable for matching two-component automatic coating equipment, can be produced by assembly line, fast and efficient;
4. This product does not need to use other primers, and it has good adhesion to most metals, plastics, ceramics and glass;
5. Excellent anti-aging properties such as heat resistance, cold resistance and moisture resistance, and good air tightness;
6. It has a soft rubber shape after curing and has good impact resistance.
II. Typical Applications:
1. Bonding and sealing of automobile headlights, fog lights and taillights;
2. Waterproof adhesive sealing of advanced lamps;
3. Bonding and sealing of other lamps.
III. Executive Standard:Q/KSD 005-2012
IV. How to Use:
1. Substrate surface: dry, clean, remove stress, dust, oil, etc.;
2. Before mixing, observe whether the B component has crust. If the crust is carefully removed with a blade, it is found that a small amount of liquid is precipitated and can be gently stirred by a tool. It is not suitable for high-strength agitation to avoid air bubbles;
3, do compatibility experiments before use, please confirm the mixing effect, curing and bonding;
4. The weight ratio of A and B is A:B=10:1, and the volume ratio A:B=8:1. If you need to change the operating performance, you can change the mixing ratio and apply it after experimenting. At this time, the more the B component is used, the shorter the curing time, and at the same time, it is noted that the operation time is also shorter. It is recommended to make small-scale adjustments, if you need other proportions, you can customize them;
5, for most substrates have good adhesion such as: PC; but for some low surface energy materials such as: PP, PE, PMMA need to be plasma or primer treatment, bonding can have a good effect.
V.matters needing attention:
1. Regarding component B: During long-term storage, liquid precipitation may occur in component B. When the condition is severe, it may be slightly stirred without affecting the performance of the rubber. Component B is particularly sensitive to air humidity and should be sealed for storage.
2. About mixing glue:
2.1, Costar 5521A, B components are smooth and fine, with a good extrusion rate, can fully meet the requirements of automatic rubberizing on colloidal extrudability;
2.2. When mixing the glue, the mixing effect is not good. It should be checked whether the pump body is evenly stable, whether the pipe is smooth, and the static mixing effect is good. The mixing effect is independent of the colloid itself under the premise that the colloidal extrusion property is satisfied;
2.3. In order to improve the mixing effect, it is one of the most effective methods to change the mixing ratio of the A and B components. For example, the volume ratio of 8:1 becomes 7:1, and the mixing effect is improved because the relative amount of the B component is increased. However, the glue of the glue machine is required and the matching glue is required.
VI.Packaging Specifications:
1. KSD-9521, component A is packed in 200L (net weight 240kg) iron drum, and component B is 20L (net weight 18kg); or packaged according to customer requirements.
Ⅶ.Storage and Transportation:
1. Store in a cool dry place. The storage component A is 12 months and the B component is 9 months (at 28 ° C);
2. Such products are non-dangerous goods and can be transported as general chemicals;
3, the A and B components of the colloid must be sealed and stored, be careful to leak during transportation!
4. Products that exceed the shelf life should be confirmed before use.