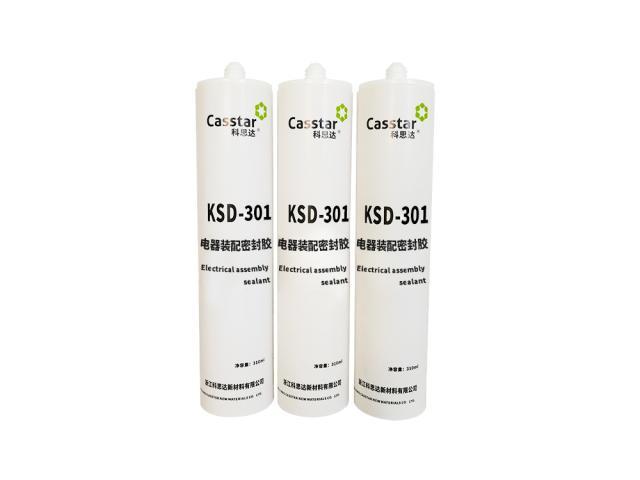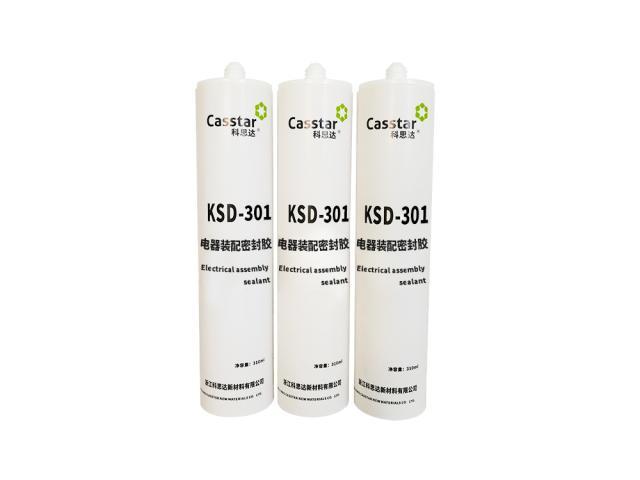 KSD-301 Electric Appliance Assembly Sealant
---
KSD-301 Electric Appliance Assembly Sealant
---
I. Product Features:
1. It's one-component silicone adhesive sealant cured at room temperature;
2. It's featured by fast curing speed, low volatilization, no corrosion to materials and no release of irritant gas;
3. It has good heat resistance and can withstand the high temperature of 200℃.
4. No other primer is needed, and the adhesive force to most metals, plastics, ceramics and glass is good;
5. It has excellent anti-aging performance, good air tightness and anti-ultraviolet light.
II. Typical Applications:
1. Bonding and sealing for industrial applications such as instruments, electronic appliances and machinery;
2. Bonding and sealing in many other applicable fields.
III. Executive Standard:Q/KSD 002-2018
IV. How to Use:
1. Substrate surface: dry, clean and free of stress, dust and oil stains;
2. Apply glue: Cut off the rubber tube cap, squeeze the glue onto the cleaned surface to make it evenly distributed, and close and fix the glued surface;
3. Test before use to determine curing and bonding conditions;
4. Curing: Place the glued or sealed parts in air to allow them to cure naturally. The surface drying time is less than or equal to 30 minutes, and the curing is from the surface to the inside. The glue will be cured to a depth of about 5mm in about 24 hours (temperature: 25℃ and relative humidity: 55%), with a complete curing time of about 72 hours and a maximum curing depth of about 10 mm. If the temperature is lower, the curing time will also be prolonged. Before further treatment or packaging the bonded parts, it is recommended that the user wait long enough so that the fastness and integrity of the bonding will not be affected.
V.matters needing attention:
1. After the operation is completed, the unused glue shall be sealed and stored.
2. When it is used again, if there is a little crust on the sealing part, it can be removed without affecting the normal use. During the storage process, a small amount of curing may occur at the nozzle, which can be used normally without affecting the performance after being removed.
VI.Packaging Specifications:
310ml/piece, or packaged according to customer's requirements
Ⅶ.Storage and Transportation:
1. Be stored in a cool and dry place for 6 months (below 28℃);
2. This product is non-hazardous and can be transported as general chemicals.
3. The product shall be sealed and stored to avoid extrusion and collision during transportation.
4. Products exceeding the storage period shall be inspected and confirmed to be free from abnormality before use.